Fairy Garden Swings
I love Pinterest. I really do. It is often my number one place for finding crafty ideas, color inspiration and of course, fairy garden ideas. Unfortunately, they do not always make it clear which items are for sale, which items offer nothing more than a "tadah, look what I made" photo, link to nothing or actually link to a usable tutorial. So, with that in mind, I set out to create my own post full of options for tiny green gardeners looking for fairy garden swings.
DIY Fairy Garden Swings
This first group of fairy garden swings offer a variety of DIY options. Depending upon the materials you have on hand and your level of craftiness, I'm sure there's at least one that would work for you.
The Tire Swing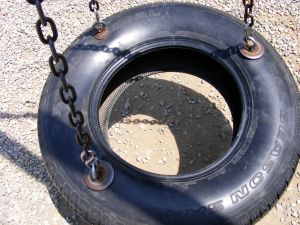 There are so many charming variations on how to make a fairy garden tire swing. The best looking ones seem to use rubber tires. A swing could be created by just tying a tire onto a bit of cord. For a neater appearance, create s small hole in the edge of the tire. Insert the cord in the hole, tie a knot and hide the knot in the rim of the tire. You could also hang the tire sideways with three cords; like this people-sized tire swing.
If you can't find a rubber tire, you can use just about any small toy tire for your swing and just tie it to the cord.
There are lots of folks offering homemade and manufactured fairy garden tire swings. However, like their human-sized originals, I think homemade often looks better anyway. No tires? Hit your local thrift or $1 store and you're bound to find a toy with removable wheels.
Kaia's Twig Swing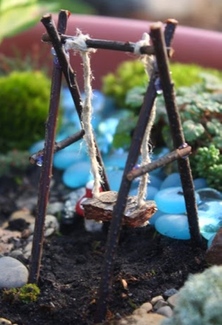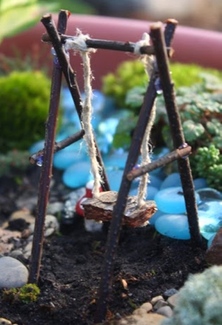 A crafty mom shares the charming fairy garden she made for her daughter Kaia.
She created a generously long post that explains a number of the creations she included in their little magical garden. The swing tute is near the end of the post.
She made this cute little swing from a piece of bark and a number of twigs.
This picture shows all of the places where she glued the twigs together but they recommend dabbing a bit of paint on the glue to hide it and make it pretty for the resident fairies. Or, you could glue a bit of moss on the joints like Nicole did in her version shown below.
Link to their site – The Juise.
Nicole's Twig Swing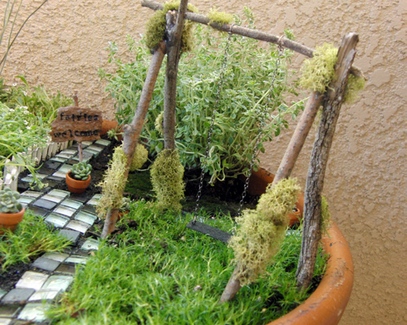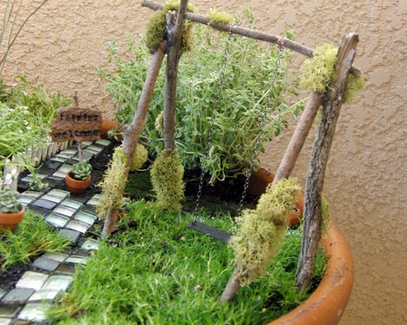 Nicole has shared a tutorial for her version of a twig fairy swing. She created her swing frame much like Kaia's mom did but she pairs a slightly curved twig with each straight one to create a more triangular shape.
She created her swing frame much like Kaia's mom did but she pairs a slightly curved twig with each straight one to create a more triangular shape.
Nicole's version uses a few jewelry-making components – a bit of chain, eye pins and jump rings to hang her swing. How clever was she using reindeer moss to hide her glue?
See her tutorial here – Shabby Beach Nest.
Wire Porch Swing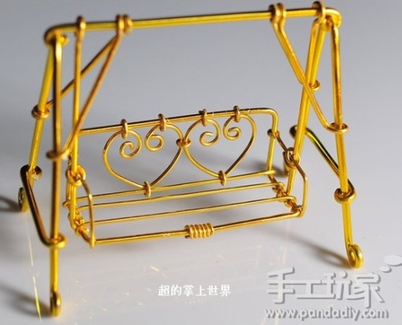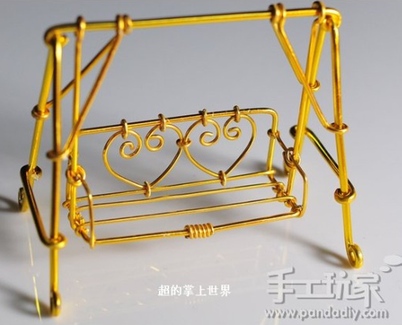 I'm not generally a fan of when someone takes someone else's tutorial, takes each of the photographic instructions and creates one picture with the entire tutorial. They often come from Duitang, a sort of Chinese version of Pinterest. The original creator is rarely given credit and oftentimes the project has been copied out of a book still in copyright. I'm making a bit of an exception by including this wire swing project since the original watermark is in place and the site identified in that watermark is no longer online. (If this is indeed a protected work, I will gladly remove it from this list.)
The tutorial is entirely in picture form. The didn't include measurements for the wires. It does seem that with a bit of trial and error, and perhaps a bit of patience this metal fairy garden swing project is doable for most of us.
Here's the link – Duitang.
Wooden Porch-Style Swing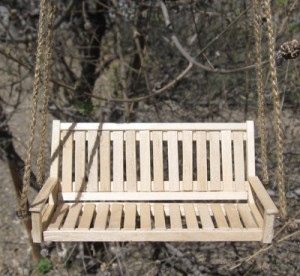 This timeless classic might not work for every fairy garden, but what fairy wouldn't want a swing as lovely as this one in her garden? The instructions are provided by the Mini Time Machine, a magical museum dedicated to miniatures in Tucson, AZ. Through the dioramas, dollhouses and other vignettes they have created what amounts to a "mini time machine."
Though you will be working with small pieces, the instructions call for using a mitre saw. However, I suspect patient sanding with a little help from a craft knife just might get the job done if you don't have a saw.
Here's a link to the PDF with instructions – Mini Time Machine.
Fairy Garden Swings on Amazon
Amazon is certainly not the only place where you can buy fairy garden swings. However, they are the number one online retailer for a reason. And besides, when you are probably buying stuff from them anyway, why not buy a little something special for your favorite fairy and her garden?
Miniature Garden Set – Tree with Tire Swing
This is one of the cutest miniature tire fairy garden swings I've seen.
The tire swing hangs from it's own tree. A 2.25″ metal pick holds it in place. Perched on top of the branch is a pair of cardinals. Make the swing as high or low as your tiny green garden terrain allows with the included twine.
The miniature tire swing and tree stands 6.25″ tall and 5″ wide.
The tree is so well-designed that it could be used without the swing. With the two birds on top, I would think it would look super cute to use it to display a bird feeder or hang a pot full of colorful flowers.
Solar Bear Fairy Garden Swings
I realize this isn't what folks typically think of when they are shopping for fairy garden swings, but, please bear with me. (OK, you can groan now. You know I couldn't resist that one.)
This is like those little flowers that bob from side to side in the sun. How fun would it be to have a little teddy bear in the fairy garden that actually swings all by himself? Unfortunately, there were no reviews when I looked at the Solar Power Motion Toy – Bear Swing. They did not provide a size, but based on other similar products, it would probably work well in a medium to larger-sized fairy garden. It may not waterproof, so plan accordingly before buying. This item is sold by a third party but is fulfilled by Amazon.
Miniature Rusted Steel Swingset with Vine Detail
I like this one for a number of reasons. You could obviously use the Miniature Rusted Steel Swingset with Vine Detail for Fairy Gardens, Crafting and Embellishing
as sold or you could use the existing vines and leaves to anchor your own decorations.
Also, since this product is made out of steel, it can withstand being out of doors and hopefully being played with by both visiting fairies and children.
It measures 4.5 inches wide by 2.25 inches deep and 4.5 inches high.
Fairy Garden Swing and Slide Set
This miniature resin swing set offers two fairy garden ornaments in one. A cute leaf swing hangs from a charming 'wooden' structure. Vines, leaves and bright pink flowers grow all along the structure. It measures 6″ x 4.5″ by 2 3/4″. How cute would this swing be with your favorite fairy or miniature garden dweller sitting on it?
Along with the swing set, you'll receive a cute little garden slide too. The slide measures 3″ x 3″ x 1″. It too is wrapped in green vines and leaves with pretty pink flowers. The back has a ladder for the fairies to climb and the bottom of the slide is flat enough that a fairy, elf or other figurine can sit on it.
Dollhouse Oak Front Porch Swing
Don't have the time or the patience to tackle the swing project from the Mini Time Machine Museum? Here's another option for your fairy garden. This Dollhouse Oak Front Porch Swing
is identified as being on a 1 inch scale (1 inch for every 12 inches in real life). My guess is that it is about 5 inches or so wide.
This item is being shipped and sold by Miniatures By Hanna on Amazon. Hanna also offers this swing in a walnut finish or painted white. You can find the other two swings by viewing this item, clicking on MiniaturesByHannah (where it says "ships from and sold by") and do a search for "swing" on their feedback page.
Tree House with Swing
If your tiny green garden is the domain of your little one, you might want to check out this tree house. It's by Calico Critters – so it fits their characters and the PetShop characters. It is the priciest of the miniature swings we're sharing. However, it's also one that could be played with and enjoyed for hours at a time.

The Calico Critters Adventure Tree House measures 13″ x 11.5″ x 15″; making it also the largest of our swing set choices. But this set is so much more than just a swing set.

The entire structure sits on a green "grass" base. A three-story tree provides three levels of play space. Tree house visitors can use the little, detachable ladder to climb to the second story. The second story includes a porch with an attached ladder to the third story and a room with space for furniture and other accessories. A small house, with a working door and two windows is included that can be placed on the third story or used at ground level. If that were all this set came with, it would still be cute; but, that's only the beginning.

There's a railing to keep little visitors safe on the third floor. It reminds me of the twisted branch fencing used with log homes in our area. A cute little birdhouse can be hung from the tallest part of the tree. Steps along the tree trunk provide access to the top of the tree and the birdhouse. And everyone can enjoy a quick descent to the ground with the slide. Also included in the set is a tiny bucket with a pully. It attaches to a branch of the tree on the third floor. A bench-style swing hangs from some of the lower branches too.

It's super cute and will provide hours of pretend play.

...