Terrarium Kits for Kids
Hoping to infect your little ones with the gardening bug? Or maybe you're trying to teach botany at home this year? Have you considered one of the terrarium kits for kids? They range from simple little plastic domes to table-top sized enclosures on up to more adult-like glass versions.
Our family no longer has little ones in residence, but, every now and again, it's fun to play with kid's toys. And, when we find them heavily discounted – well, sometimes a girls just gotta have fun.
Update: April 2023 – Alas, it appears Dunecraft has pretty much abandoned these products. They did have a bit of mixed reviews and if you followed the instructions exactly as directed, you didn't always have the best outcome. You can read my review for lessons learned. And, then at the bottom, you can check out some of the newer versions of terrarium kits for kids that families seem to truly love and they now even include glow lights that double as a cool night light!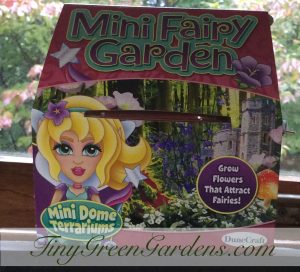 Our latest find were Mini Dome Terrariums from DuneCraft. After we got them home, we looked them up online. Uh, oh. The reviews were a mixed bag. Complaints ranged from missing pieces, switched materials to the predictable complaints of the seeds not growing. The missing or switched materials was a little disappointing. But, whether or not the seeds sprouted could have so many causes that those complaints didn't dampen our enthusiasm.
We love that DuneCraft included flower seeds. So many of the children's terrarium kits contain grass and grain seeds. Grass seeds sprout fast and grow quickly. But, when grown indoors, they also die very quickly and require frequent reseeding and trimming to maintain any sort of "plant."
Before we get into the details, this kit is not a terrarium. It's more like a mini-greenhouse for seed starting. The plants will quickly outgrow the dome and none of them will survive if they are left in the germination medium once they are established. If you leave the plants in this medium, they will essentially starve to death, no matter how well you tend to them. It is a cute little product and though it has a number of faults, it's worthwhile – if you can snag one at a cheap enough price.
DuneCraft Mini Dome Terrarium – Mini Fairy Garden
So, what was in our terrarium kits for kids?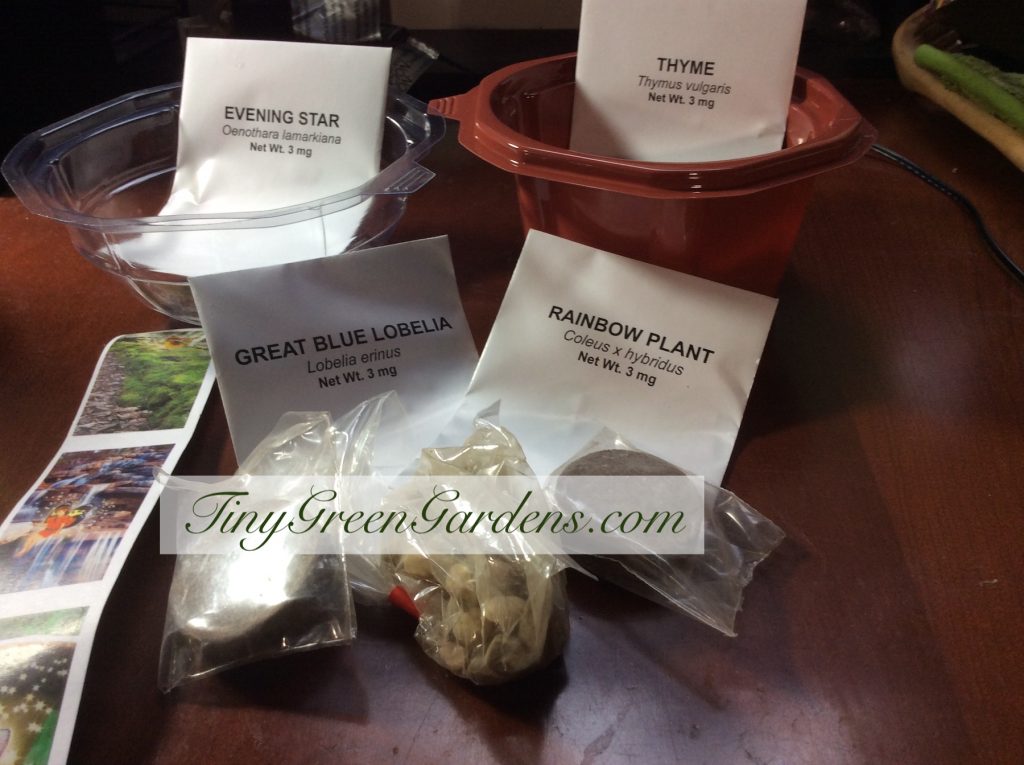 The instructions said the complete kit contains: a mini dome, germination disk, fairy mix seeds (12mg), 3 fairy decals and rainbow gravel.
The quick version…
Mini dome – check.
3 Fairy decals – check.
Fairy Mix Seeds – 4/5 promised varieties, 12mg/12mg promised quantity (maybe), and at least one that is well-known as being hard to grow from seed.
Germination Disks – 2 instead of one.
Rainbow Gravel – one kit had pebbles the other had stones; neither had gravel, rainbow or otherwise
The details…
Terrarium Flower Seeds
We purchased our terrarium kits for kids around December of 2019. We expected the seeds to be old considering we purchased ours at such a deep discount. Quite the contrary, they were packed for 2019 and had a sell by of 06/2020.
The box, in itty bitty print, says we should have gotten Evening Star (Oenothera lamarkiana), Great Blue Lobelia (Lobelia erinus), Rainbow Coleus (Coleus x hybridus), Alyssum (Lobularia maritima) and Thyme (Thymus vulgaris). The box said we were getting 12 mg of seeds. According to the envelopes, we did receive a total of 12 mg; 4mg in each envelope but there's no way the seeds all weighed the same. Neither kit had the alyssum. Not really a biggie, unless of course, you really wanted to grow allysum. Unfortunately, of the group, I think the alyssum was the best choice for kids and tiny green gardens.
Our seeds were nicely packaged in labeled white envelopes. The thyme seeds were loose in the white envelope. The others, which are quite a bit smaller (the lobelia are practically microscopic, if even seeds at all), were packaged in small plastic bags.
We love that these included flower seeds.
Incase you are not familiar with these flowers or would like to learn a little more about them…
Evening Star
Evening Star is a not generally a plant we would recommend for a terrarium or tiny green garden but they are a favorite with butterflies and fairies. At maturity, they measure 2 to 5 feet tall. However, their ability to grow in almost any soil should hopefully lead to them sprouting with these little domes. They generally germinate in 20-30 days.
They are quite lovely and would be a great plant to grow with children. They are more commonly known as Evening Primrose. Like the name implies, their blooms open in the afternoon and close again when the sun rises the next morning.
Great Blue Lobelia
We were a bit surprised by the inclusion of Great Blue Lobelia. They're a beautiful plant and yes the fairies and butterflies love them. But, they prefer a wet environment and they can be difficult to grow from seed. Most gardeners buy plants rather than even attempting to grow them from seed.
The seeds are super teeny and require cold stratification for germination. After stratification, it will be another 14-30 days before they sprout.
We think they are a poor choice for a gardening and terrarium kit for kids. They also grow best in soils that remain fairly wet – not an environment the other included plants like. We're not suggesting you don't try them, just don't be surprised if they don't sprout for you.
Our Lobelia seeds look suspiciously like plant matter and not actual seeds. But, not all seeds are little black dots. And, since we planted our domes in the fall, any that might have grown would have died indoors or outside in cold weather.
Rainbow Coleus
Seems like the folks at DuneCraft could have just included a bunch of these seeds in their Mini Dome Terrarium kit. They are fairly cheap; some companies offer 5,000-10,000 seeds for a little more than $1 per thousand. Oddly enough, in smaller quantities, they can be pricey. Assuming they grow, the coleus seeds alone might make this kit worth buying.
If you don't know what coleus are, they are those beautiful plants with colorful leaves like those shown below.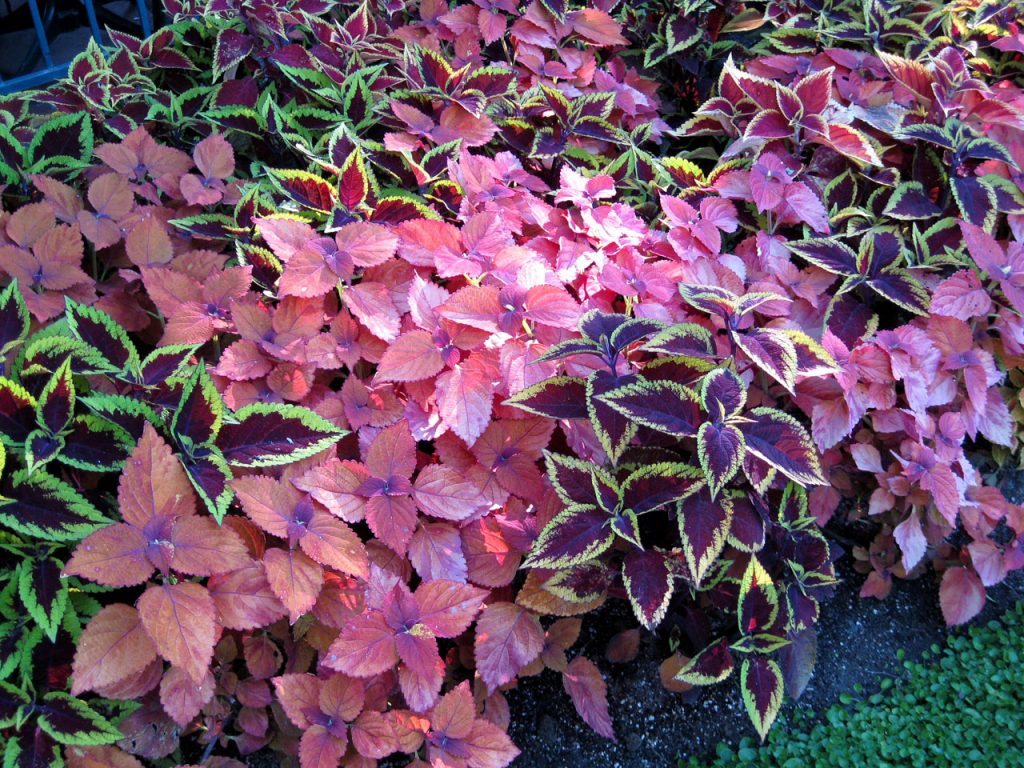 We've grown coleus from seeds we harvested from our own plants. They spout easily and prolifically. They can also be grown indoors – ours were a little small and not as glorious as the ones in this photo, but, they do grow. Seedlings will generally emerge in 12-21 days. But, the first of our planted coleus were peeking out of the growing medium on day 6.
Thymus Vulgaris
We love thyme – it's perfect for tiny green gardens.
We've talked before about 2 of our favorite varieties – elfin thyme and silver edged thyme. The thyme included in this kit is the more 'common' variety and while a bit larger, is also a great fairy garden plant and a favorite of butterflies and fairies.
Plants can be grown inside or out. But, they dislike wet soils (obviously not a good companion for the blue lobelia) – so once they get established, you'll need to move them to regular soil fairly quickly. Thyme seeds generally take 14-28 days to germinate and sprout. Much to our happy surprise, our's sprouted in 4.
Alyssum
It's such a shame our kits didn't include the Alyssum seeds. They are easily grown from seed and sprout within 5 to 10 days. They're small plants that only grow to 3-9 inches tall and spread 6-12 inches. They have a lightly sweet scent and are a favorite of butterflies and fairies.
Germination Disks
The germination disks are probably coir pellets and are similar to Jiffy Pellets. Our kits each included 2. One kit had each tidily packed in little plastic bags; they were loose in the other. No biggie there.
Against my best instincts, I followed the instructions and used a full cup of water. I started with one disk thinking maybe we had gotten an extra. It took about 30 minutes to get the first disk to swell. I broke it apart and had a very watery, black soup with a few teeny sticks floating in it. Alrighty, both disks were required.
Put the second in and waited for it to absorb the rest of the water. Gave it another hour. Now I had a slightly thicker muddy soup with teeny sticks floating in it. Gave it another hour. More water was absorbed but I still had quite a bit of extra. Gently pouring the extra water out yielded a little over 1/3 of a cup. Squishing it down with a spoon brought the total excess water to 1/2 cup.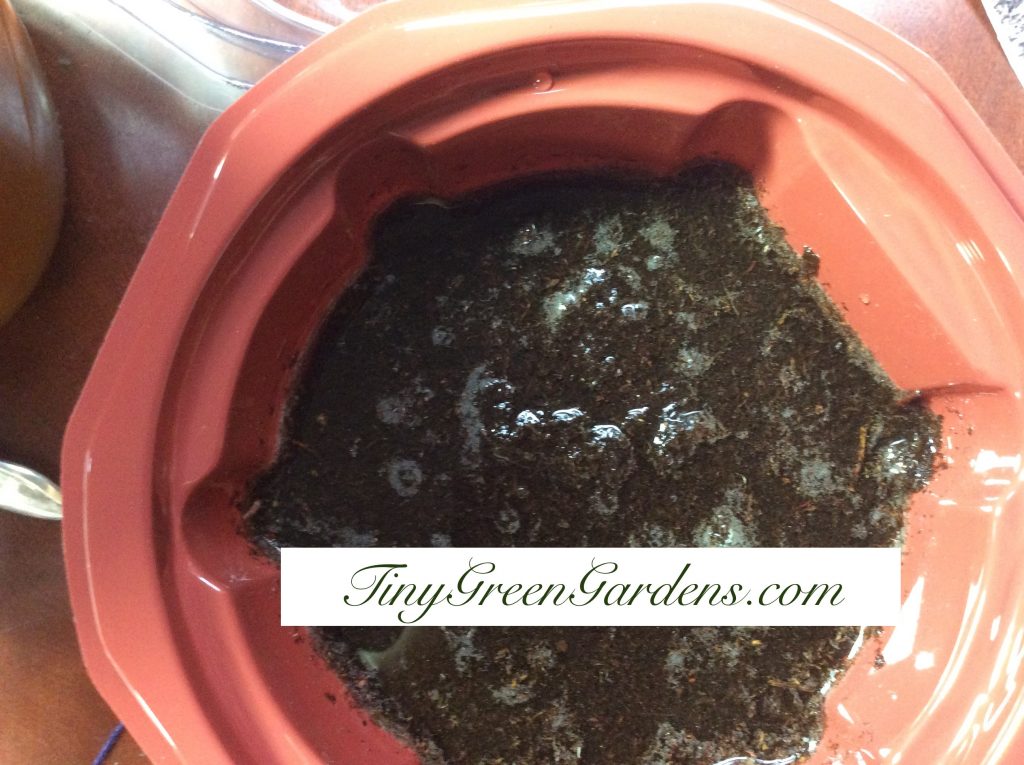 Strike one. Should have listened to my gut on that one. My guess is this is where a lot of the negative reviews came from. It's no wonder many families only grew mold.
Thankfully, we did one at a time and used less water with the second kit. With the second kit, we poured about a 1/4 cup of water into the dome. After a few minutes, both disks had puffed up and the water was gone. We broke up the little mounds and added a little more water to moisten the seed starting medium. Again, we needed nowhere near an entire cup of water.
The Not-so-magical Rainbow Gravel
Rainbow Gravel? The box shows a cute little pile of what looks like red, green, blue and yellow fish tank gravel. What did we get instead?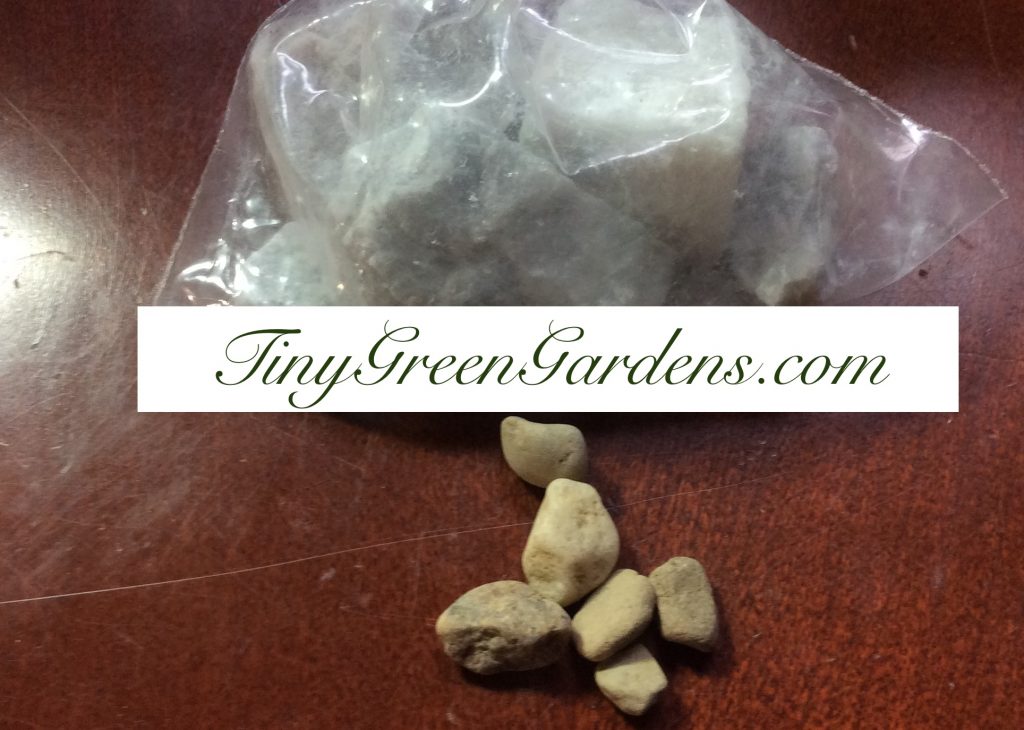 Terrarium Kit for Kids #1 – A little bag of brownish-gray pebbles. The instructions suggest "Make paths and designs on top of your germination mixture with your rainbow gravel." Our pebbles are a little big for making paths or designs but we picked a few of the nicer ones to decorate our kids terrariums.
Terrarium Kit for Kids #2 – A little bag of white stones. While a little prettier than the pebbles, we definitely won't be making any paths or designs with these.
The gravel isn't really needed. The little pebbles were useful for sectioning off the dome for the different types of seeds. The white stones will probably get put outside with similar ones we already have. Seems ridiculous to make paths with rainbow gravel in a seed starting kit. But, shame on DuneCraft for making such a bad substitution in their terrarium kits. For kids, not getting the pretty stones is a big deal. For us adults? We just laughed it off.
Planting Our Terrarium Kits for Kids
It's fall here, so I opted to only plant the seeds for the coleus and thyme.
I planted 7 of the little black dots from the coleus bag, about half. Two might have been plant matter and not actual seeds; time will tell.
I planted 7 thyme seeds too.
Mom opted to just plant all of her coleus seeds but didn't start until 2 days after I did.
We didn't put either dome directly in the sun, as suggested by the instructions. Putting a moist, closed container in the sun will simply cook the seeds or seedlings like they were being stewed. It's also a great way to grow a nice batch of algae. Ambient light is good when the seeds are first planted. Light that doesn't provide heat, like a desk lamp is also better than direct sunlight.
My dome is off to the side of a sunny window and under my desk lamp. Mom's is in a window that gets light all day and diffused late afternoon sun.
We Have Green!
I planted my mini dome on a Tuesday. By Saturday, I had 3 little bits of green poking up. Two had their first set of leaves! They're both thyme. Most of what we read about thyme said they wouldn't sprout for 14 days or longer. Ours sprouted in less than 4!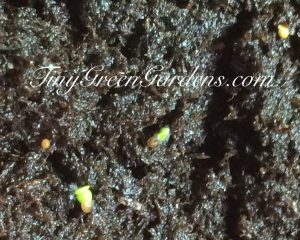 Two days later, the first coleus sprouted too! And, we've got another little thyme sprout beginning to poke it's head up. So, in 6 days, way before the seed companies would suggest, we have 4 thyme sprouts and 2 coleus. The teeny coleus are still kinda wearing a seed husk hat, but they're the two kinda shiny white spots in the left side of the photo.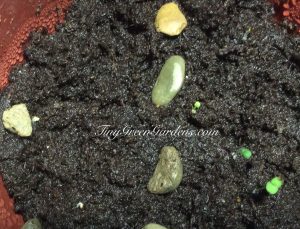 About Dunecraft, Their Terrarium Kits for Kids & Our General Thoughts
We purchased our little terrarium kits for kids at a 100 pennies store. We figured it would be a little fun and bought one for each of us. I had seen the name before. I had seen their kids terrariums on Amazon. Most had mediocre reviews. I know how sometimes plants just don't grow. I had always assumed the products were not 100% to blame and sometimes the customer did something wrong or the seeds weren't viable – something even the best seed companies don't always get right.

When I finished writing this post, I figured I would share with you some of their products on Amazon and let you make your own decisions. As I began working on that I noticed that some of the kits had crazy expensive prices and/or high shipping – usually a signal that the item has been discontinued and quantities were becoming limited. Searching for the company led to primarily dead ends – there's a registered web site but it doesn't load.

If you can pick up one of these kits, I say go for it. No telling what rocks or pebbles you'll get, but, you do get a cute little greenhouse, some seed staring medium and some nice flower seeds. The dome is about the size of a soup bowl and is quite cute. It does make a great project for teaching children about the life cycle of plants. Just be careful when working with the seed germination disks.

Do keep in mind, the product name is more than a bit misleading. These are not terrariums where you can grow flowers. They are seed starting kits where you can grow seedlings that will need to be transplanted. You'll need a pot or spot in your garden to move your plants to once they get a couple of sets of true leaves.

The instructions in these terrarium kits for kids are bad. 1 cup of water is way too much. And, putting a closed dome with unsprouted seeds in the sun is likely to cook the poor things before they even get a chance to sprout.

Many seeds are only viable for a season or two. Our's were in date and fresh. It took only 4 days for some of ours to sprout. By day 6, we had 6 visible sprouts out of 14 seeds. At the price of some seed packets, even at full price, this terrarium kit for kids isn't a bad buy.




...