Random Ideas About Tiny Green Gardening & Life in General
Just a place to put those random ideas and photos that I come across in my own endeavors or wandering around the web. I guess you could say this is my 'uncategorized' section. But, I've never really liked that name. So, Random Ideas is it.
Hope you enjoy!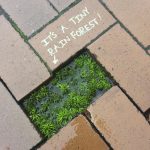 Filed under: Random Ideas
Today's post a free smile from a fun bit of street grafiti – a tiny rain forest.