Silver Edged Thyme – A Lemony Miniature Plant
Yesterday we went on a small road trip. Asheville sometimes just seems so very far away, even though it is only about 40 minutes to the city. We went to BB Barnes. It's like a fairy wonderland of plants. You name it and they pretty much have it somewhere in the greenhouse, the back lot or in the main building. It's the kind of place that if you love plants and decorating you can quickly drop a lot of money on all sorts of wonderful growing and decorative things.
We timed it well. Clearance herbs for only $1. Houseplants were buy 2 get 1 free – including the terrarium plants. We spent several hours there. Oh so much to choose from, so little the budget.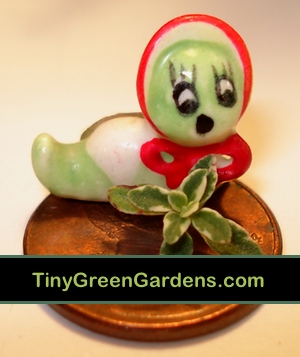 One of those herbs I found was silver edged lemon thyme. Mine is currently in desperate need of a trimming. The poor thing is quite spindly from end of season neglect, otherwise I would show you the entire plant. It's not as small as elfin thyme, but the leaves are quite small as you can see in this picture. And, they are variegated which makes them quite pretty. With a bit of management, it would make a great addition to a fairy garden which is where mine is destined to go.
About Silver Edged Thyme
From what I've read, I would call silver edged thyme a tender, perennial evergreen. The grower listed their thymus citriodorus as doing well in USDA Zones 7-10. My reading and the nursery personnel recommended keeping it indoors over the winter here in western North Carolina where we are in zone 6b.

Silver edged thyme likes full sun and grows to about 4.5 inches tall. But, I have seen some  nurseries and online shops reporting this plant can grow up to 12 inches tall. Thymus vulgaris, the 'original' culinary version of this thyme is said to grow 12 inches tall. I suspect some sites are mixing up the information for thymus vulgaris and this plant, thymus citriodorus, which is smaller and more tender. Like so many of the plants I have studied, this one has provided a bit of confusion for the experts. While originally thought a cultivar, thymus citriodorus might actually be a distinct species.

Like most thyme species, this one will have little pink or lilac flowers. The flowers appear in between the leaves at the tips of the branches. The leaves have a wonderfully, aromatic blend of thyme with lemon. They provide a nice lemon flavor in recipes. Bees and butterflies are fond of this plant as well.

I noticed a few branches on my silver edged thyme have roots. I'm thinking that they must have touched the soil of a nearby pot. I'm thinking silver edge thyme would be fairly easy to propagate by letting some branches lay on the ground and do what comes naturally. I've read that the scent of plants grown from cuttings or root divisions have a sweeter fragrance. However, experts believe that starting plants from seed yields better plants.

This variety of thyme can sometimes be hard to find. Plants are seeds are more readily available in the springtime and can sell out as fall approaches.




...