Score at Michaels
We were at Michael's this weekend and they were just starting to put out the Christmas stuff – yes, September 14th, sigh. They had a section of little things that were designed to build centerpiece dioramas with. The idea was to take a cake stand or other glass container and create a little winter or Christmas scene from all of the little doo-dads they had. A lot of it is absolutely perfect for decorating fairy gardens, terrariums and other tiny green gardens. It seems like almost all of the pieces are $2.99, one of the things I didn't buy was $3.99 but still a great price for this sort of stuff.
I picked up a little metal candy dish – looks like a perfect bird fountain to me. I love how it's decorated.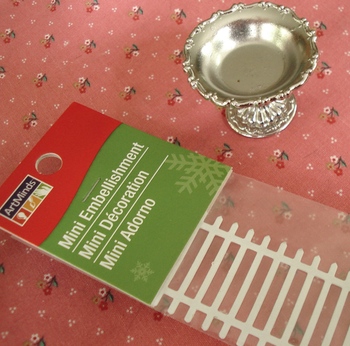 I also picked up a length of metal fencing – it came in two colors – white and rusty metal. One of the rusty ones had a broken picket, so if you get to your Michael's in time to grab one, check it over carefully. I saw very similar fencing being sold on Etsy for twice the price. This metal fencing is 12 inches long and around 3/4 inch tall.

I almost bought the little Santa sleighs. There were three of them in the package. But, I thought one sleigh would be cute but what would I do with the other three.

I can't remember what the $3.99 item was. I don't think it was bad for the price or it might have been the little dish I purchased.

Anyway, If you're looking for some little items for decorating fairy gardens at a great price, you might want to check out the Christmas section at Michael's. Do keep in mind that throughout the Christmas shopping season that many of the crafts stores seem to get waves of products. What they might have in stock at the beginning of the season may not come in again that year.

Check it out. You'll be glad you did.

...