Succulents at Lowe's
As the 2014 summer gardening season is coming to a close, we were hoping to start moving more of our gardening energies inside. A lot of the terrariums and fairy gardens I've seen incorporate succulents into their designs. Lowe's has this mix and match 4-pack and small single pots that they sell. It has 4 small succulent plants and the idea is to buy several of them and mix and match to create a dish garden.
I've mostly grown african violets and haven't done too much with succulents. I've a small dish garden of succulents on my desk, but it is a bit on the wild and wooly side.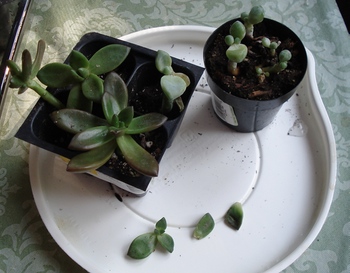 Anyway, here we are mid-September and Lowe's has what few succulents they have left on the clearance pile. In one store, they were still on the main display and the 2 that were left were pretty ragged looking – particularly since they hadn't been reduced. Another store had more to choose from, problem was that they (and unfortunately most of the houseplants) were not being watered at all. The succulents were tossed onto a shelving unit and marked down. They had a few of those dish gardens with the glued on rocks (never buy those, the plants always die unless you get them out of the rocks fast enough) with plants that looked like they might be salvageable. Unfortunately, they still want $8 and $10 for those.  Not gonna happen.

Of the tiny succulents, they had a few and we snagged those. They were toppled every which way and hardly anything was still in the pots. We made a four-pack for $1 and found a  small pot for 50 cents that looked like it had some new growth.

A few of them look usable as they are. One even still had a fairly nice rosette. The others almost look like someone had helped themselves to a few of the leaves or they just broke off from being mishandled.

According to one of the folks working in the garden center she said that they are going into their dormant season – they don't really "grow, flower or do anything; they're boring right now and besides we need the room for Christmas plants." Maybe it's just me, but I think succulents are year-round plants, but what do I know. Well, at least they're not discontinuing the mix and match concept. But, depending on if you have a Lowe's or not, you might be able to pick up some succulents for a small bit of change.

I've seen several different techniques for propagating succulents from leaves. I might do a bit of experimenting and share the results with you.

...