British Soldier Lichen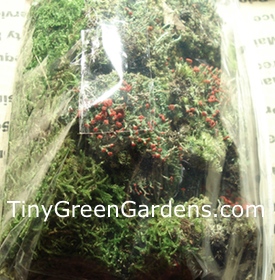 It's been a fun week for me. I finally saved up enough mad money to have some fun buying terrarium plants for my tiny green gardens. This order was for some very pretty lichens from the Appalachian Mountains. I always question ordering assortments as I almost always seem to not get what I would consider a fair share of the good stuff. I knew as soon as I pulled the baggie from the shipping envelope, that I had quite a bit of the good stuff. Look at all of the beautiful red – that's the British Soldier Lichen.
Six days ago, I ordered the Appalachian Emporium's Large Terrarium Mix Moss & Lichen Variety Assortment. The assortment is a pint of woodland goodness. I received a sandwich-sized zip lock bag full of lichens and moss. It contained one fairly large piece of sheet moss (at least 6 inches by 5 inches at the widest points), a second piece about half that size and 8 clumps of moss and lichens. It all looked great but it did seem a little on the dry side. I misted both the top and bottom of everything and it seems to be doing great.
It's believed that these lichen were called British Soldiers because the red caps (apothecium) are reminiscent of the hats worn by the "Red Coats." A quick bit of research leads me to question this slightly, during Tuckerman's era, it was more likely to see a French soldier in a red cap and some regiments of the Confederate forces were red headgear. However, a number of ceremonial uniforms of the time did have bright red feathers and plumes on their headwear.
In this post, I thought I would show off my lovely new British Soldier Lichen and share with anyone also buying the assortment or live British Soldier Lichen alone what I have learned about these charming little plants.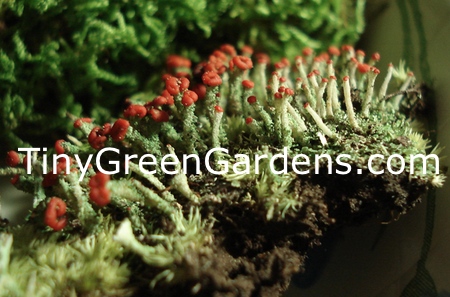 British Soldier Lichen
Let's start with the science. This lichen carries the scientific name Cladonia cristatella – Cladonia means mountains and cristatella translates to crested. Edward Tuckerman (1817 – 1886) was the American botanist credited with first identifying the species in 1858. Tuckerman held two BA degrees, a law degree from Harvard and a Divinity degree. He was a lecturer in History, Oriental History and Botany. It was his extensive studies of lichens for which he is most remembered.
Much like Tuckerman's academic interests, lichens have a bit of a split personality. They are two organisms that grow together in a somewhat sybiotic relationship. That concept was developed during Tuckerman's life, but he never agreed with it.
That relationship is a partnership between algae or cyanobacteria (or both) and fungus. Technically, it's not a plant – it's a composite organism. The algae in this case is Trebouxia erici but with lichen, the organism is named for the fungus. It grows more like a plant than what we think of as organisms which is why most folks refer to lichens as plant-forms. Lichens don't have roots but they do produce their own food through photosynthesis like plants do. British Solider Lichens are one of the few lichens eaten by insects, birds or mammals. Insects primarily use them for shelter but one blogger reports that he's seen whitetail deer, turkeys and voles eat them.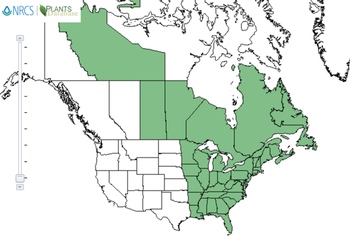 It does seem that Cladonia cristatella prefers to grow on rotting wood. They are often found at the base of old tree stumps. They also grow on mossy logs, healthy tree bases and on the soil. I saw several pictures online where they were growing on rocks and cement as well.
I plan on adding some leaf matter and maybe a bit of rotting wood in my terrarium near my lichen. I've only read of one supplier recommending using a soil rich in organic matter or even an ABG soil mix. But, it seems like it would be best to try to mimic their favorite growing places.
This map from the USDA website shows where British Soldier Lichens are found in nature. Mine were shipped, and presumably harvested from the northeast corner of Tennessee.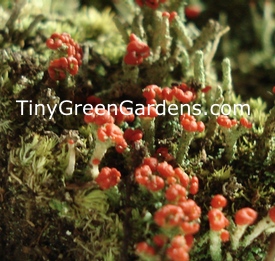 British Soldier Lichens are considered frutose lichens. Frutose lichens are those with an upright growing habit or hanging one. They are also among the most colorful of lichens. The bright red caps on the end of the thallus don't form until the organism is at least 4 years old. They are extremely slow growing. They only grow 1-2 millimeters a year. If you're not a metric person, the American dime is 1 mm thick.
Those stunning red caps contain the spores. Until the spores are joined by Trebouxia erici, the algae, they will not become British Soldiers.
Buy British Soldier Lichen
If you wish to buy British Soldier Lichens for your terrarium, I do recommend the Appalachian Emporium's Large Terrarium Mix Moss & Lichen Variety Assortment. It is an assortment and what you receive might vary from what I got. If you specifically want British Soldier Lichens, then buy live British Soldier Lichen from Appalachian Emporium instead.

...