Fairy Garden Beach House Kit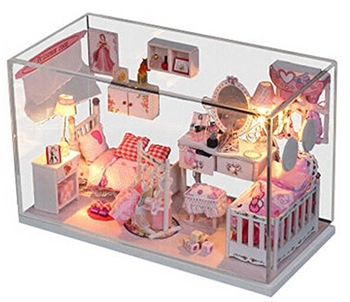 Some months ago I saw several kits on Amazon from Japan and China where you created those lovely dollhouse rooms or shops. They had things like a candy store, living room, fancy bedroom and a number of others. Folks who had tried them reported extensive instructions and virtually a gazillion little pieces – the wood pieces are pre-cut but you actually make the tiny dresser, bed, etc. They had non-English instructions but they had plenty of detailed photos. Prices are all over the place but this is one can sometimes be purchased for under $30 – Dollhouse Miniature DIY Kit Kids Bedroom.
I'm not really a dollhouse sorta gal but I was intrigued. I thought it might be a great introduction into expanding my knowledge of making miniatures but I really couldn't think of what I would do with the completed kit. But, when I first spotted one of these fairy garden Romantic Aegean Sea beach house kits on E-Bay, I knew I was in trouble.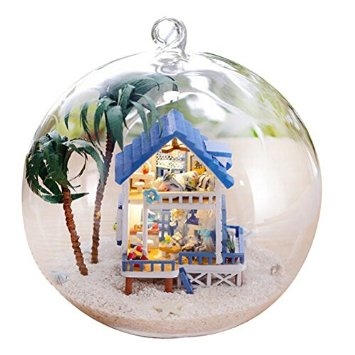 Yes, they are made in China. Yes, you have to buy them directly from a Chinese vendor; unless, you want to pay $20-90 extra to a reseller – some of whom are in China too. Yes, the instructions are in Chinese; but, they do have enough Latin language symbols to make parts identification easier. Considering these are DIY house kits for the Chinese marketplace, I can live with all of that.
Also of note, it appears that some of the kits being sold vary slightly from each other. Not that I think it matters all that much, these are so darn cute. The seller's listing for mine, included two slightly different photos – the floorplan is slight different and the shape of the leaves on the palm tree are different. Some have different fabrics for the sofa, chairs and bed. One looks like the building has a little dormer. And, another looks like it might not come with the trees. One mentioned needing a screwdriver to attach the doors – no screws in my version – I'm not sure any have them. My box says the fairy garden beach house kit is marketed by Cute Room and appears to be sold by the Guangzhou Rujun Trade Company, Ltd.
I purchased my Romantic Aegean Sea Beach House Kit from Singeek on Amazon. It came in only about a week! I don't have Prime and didn't pay extra for fast shipping. My receipt said I shouldn't expect it until the middle of September (7-10 weeks). Was bummed about the wait but I didn't feel like paying $30 extra to a middleman when I could order the tiny beach house kit for under $20, with shipping. How exciting when it showed up so quickly!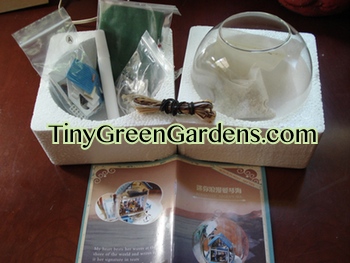 My first thought when I saw the box is that it could have withstood being shipped to China. tee hee. Funny how the world keeps getting smaller. It was taped and wrapped and looked like it could have swum over here. Nothing shook or rattled and it looked like the box was intact. The product box had a slightly damaged corner but everything inside arrived intact. I had been worried the glass globe might break in transit but figured that I would still have the house.
No worries there. The globe came protected in form-fitting styrofoam as shown in the photo. The pieces and parts were inside the box but not inside the styrofoam.
I really didn't know what the house kit would be like. I didn't know if I would have to paint it, if the pieces were plastic and had to be broken apart or how much I would have to build.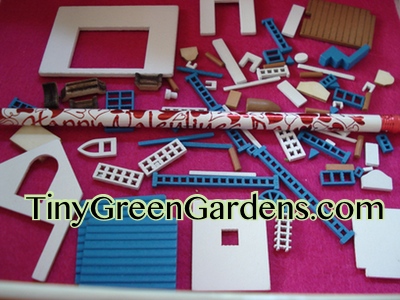 The house is made from pre-painted wooden parts – lots and lots of teeny, tiny wooden parts – the pencil should give you an idea of the size – based on the size of the bed, this kit appears to be about 1:76 scale. This fairy garden beach house kit is not for the crafting phobic or young children. The box recommends 14 and up. I would certainly second that suggestion.
Some of the vague product descriptions on EBay and Amazon mention not including glue or batteries. My kit had both. Batteries you might ask? Yep, this sweet little beach house kit comes with two LED lights. When completed, I think the glass globe is supposed to function like a touch lamp.
Can't wait to get started and will keep you posted on my progress.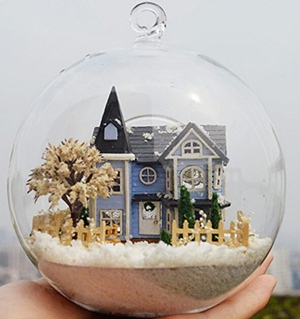 Again, in case you missed it, you can buy your own Romantic Aegean Sea Beach House Kit from Singeek on Amazon.
Or, you might also want to check out the Victorian Christmas Fairy Garden House kit (listed on Amazon as Singeek Fun house diy cabin Chi town New Angel Christmas and New Year gift).
There's also a model of the house from the movie Up, complete with balloons. And my second favorite one – Forest Dream – a two story cottage-like structure with a water wheel. All of the fairy garden house kits I've linked to on Amazon come with LED light kits.
What wasn't in my beach house kit.
I'm compiling this list as I go along building my tiny beach house. So, until I finish the build, this list may be incomplete.
Tacky Glue – my kit came with a small tube of glue. It might be good stuff, but, I opted to use some tacky glue that I've used before and was familiar with how it dried.
Cutter – you'll need a razor blade or some sort of finely-bladed cutter to cut some of the railing pieces.
Metric Ruler – a small, metric ruler will help to ensure you use the right pieces in the right places.
Glue dabber – Normally, I would use a toothpick or similar. The pieces are so tiny that I'm using a piece of 28 gauge paddle wire.
Scissors – You'll need a scissors to cut the fabric to make the trees and the upholstered furniture.
Wire Cutters – The LED light wiring appears to need trimming (haven't gotten to that step yet) and the palm trees are made with wire as well. The LED wire could probably be cut with a scissors but the palm tree wire would probably damage most scissors.
Tweezers – a good medium-sized tweezer to help hold things in place while glueing or assembling the furniture.
Little jigs – little boxes, used ink cartridges or other little things to hold things in place while the glue dries.
...