Fairy Garden Greenhouse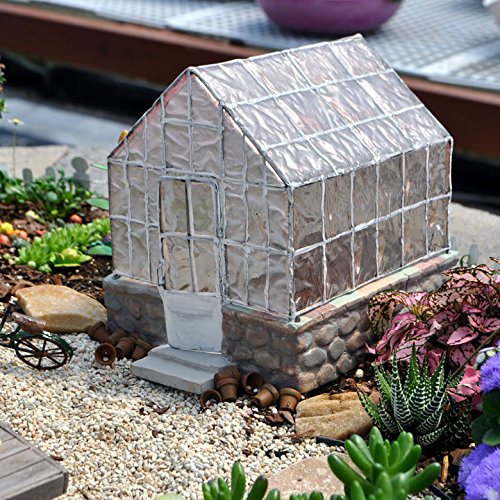 I was drooling over the great fairy garden stuff on Amazon and thought I had seen most of their offerings. This fairy garden greenhouse might be a new item as I haven't seen it before. Ain't it cute?
Don't have a spot big enough to use this baby, but at only 5 x 6 inches, you wouldn't need a great deal of space. They made the windows out of resin. Love the stone foundation too. The steps are part of the fairy garden greenhouse, And, the door actually opens and closes. How cool is that?! They don't mention if it's waterproof – seems like it might be. (I've posted the question on the listing, hopefully, we'll know shortly.) It costs a bit more than most fairy garden items but it looks handcrafted and like something that would have taken a lot of time to make. Way worth the price for the impact it will have on your favorite tiny green garden. This is one fairy garden accessory that will make your fairy friends very happy.
How fun would it be to create all sorts of plants and flowers to keep in the greenhouse. Would be a great way to use those sweet handmade paper flowers in a garden also populated with live plants – the greenhouse could keep the paper from getting wet.
The seller had only 5 in stock when I posted this; so if you want one, you might consider acting fast. If you don't get there in time, be sure to check out the seller's other items. They have a full catalog full of charming and magical fairy garden accessories.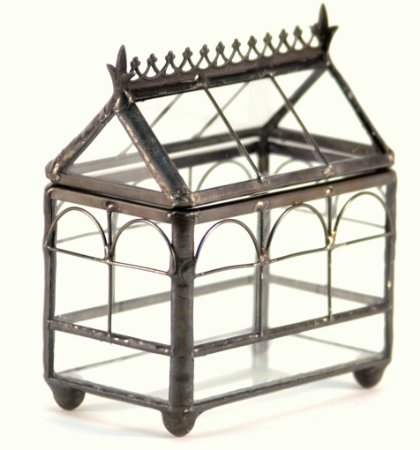 If that greenhouse is too big, you should check out this one by H. Potter. It measures only 3 inches long x 3.75 inches high and 2 inches wide. It is made of glass with lead-free solder.

I had seen several of the wonderful table-top Edwardian cases made by H Potter but this was the first time I spotted one of their miniature ones. I can't imagine how cute this mini glass house would look in a fairy garden.

Who wants one for Christmas besides me?

...