My Little Moss Garden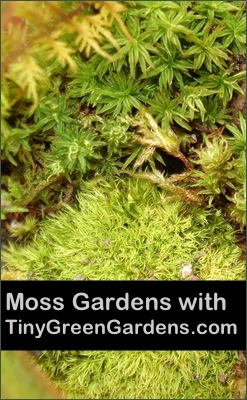 I love the look of moss. Patches of bright green stretching across the ground much like a carpet. It's small, it's dainty and perhaps the perfect addition for a fairy garden or terrarium.
This is a picture of my little moss garden. I tried once before to grow a moss garden and it ended badly when a well-meaning relative put it in the sunshine. If you learn nothing else from this post, learn this…put a glass bowl with standing water in the bottom in the sunshine and you'll get a most wonderful growth of algae that stinks to high heaven.
The glass I'm using for this attempt is actually a candle holder. I looked around on Amazon and just couldn't find anything like it. It's about 4 inches tall and has a big inset about halfway up. My guess was originally a candle sat in the top half and the bottom half held sand, stones or something decorative. Perils of thrift store shopping; you can get great buys but good luck finding another one.
Overall, the shape is somewhat like a brandy glass. Wider at the bottom than at the top. My thinking is it would allow for a little bit of humidity to build up in the lower section but still allow air circulation.
I've also planted a bit of moss in a flat flower bowl to see how that works in comparison.
If you don't have moss growing in your backyard or don't have a place where you could safely harvest some, you could always try this moss garden plant assortment.
This live moss assortment, harvested from the Allegheny Mountains in Pennsylvania, is a great choice. You will receive an assortment similar to what is shown (depends on what is currently fresh) – 2 quart bags full. Depending upon your container size, this moss assortment includes enough plants for 2 or 3 terrariums. Shipment generally also includes lichens, mini-vines and other forest floor plants.
What a fun way to try out new mosses.
Tiny Green Gardens Live Moss Buying Suggestions & Comments
This item contains live plant materials. Shipping package should be opened as soon as possible.
Moss may require more or less water than regular houseplants depending upon the species.
Moss tends to go somewhat dormant during winter months. Winter orders are fulfilled with nice, healthy moss; but it sounds like the variety of plants shipped may be different from orders shipped during warmer weather.
Where to Buy Live Moss for Terrariums
This offer is from one of the many 3rd party vendors on Amazon. While these vendors don't typically offer free shipping, they do offer items that you might not expect to find on Amazon. You can find the living moss here – Appalachian Emporium's Live Moss Cladonia Lichens Kit Mix for Terrariums Vivariums Bonsai Garden.

I have ordered from them several times and have always been highly satisfied with my purchase.

...