Propagating Red Stem Pilea
This is sort of an odd post, I had only owned a healthy red stem pilea plant for about 8 days when I wrote it, but I am already sharing with you how I have propagated it.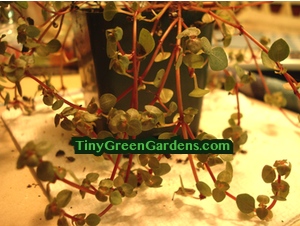 I ordered it from Josh's Frogs. It arrived in fairly nice shape, however, the cross-country trip did break off a few of the pieces and I thought I would see if I could root them.
As part of my experiment in propagating red stem pilea, I put some of the broken pieces in water and some in one of those little plant-growing kit greenhouses. I would guess it was one of those 100 pennies store finds. Not sure what grew in it before but the growing medium that was left seemed like it was nice and fluffy and has some coir in it.
If you don't happen to have one of those cute little greenhouse kits, you could use a vegetable or take-out container just as easily. Treat yourself to a piece of cake or buy a little bit of salad at your local grocery store. We've also had success propagating plants with a clear plastic, take-out container cover laid on a pot and of course the most handy option – baggies.
I would invest in some nice seed starting medium though. Forget those stupid peat pellet things that often turn into hockey pucks and just use some nice, lightweight seed starting medium. Or use a little of your Josh's Frogs Terrarium Mix and just fish out the charcoal pieces.
Rooting Red Stem Pilea in Water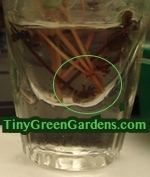 The pieces in the water seem to be hanging in there but only one has a few little roots. I'm not sure if it was the lone remaining piece from the first plant or a piece from the second plant – they hit the water about 4 days apart.
I've kept 5 or 6 pieces in a small shot glass of bottled water. The ones that haven't rooted are still hanging in there but some look like they will not be around much longer.  I plan on letting the roots get bigger before I transplant my new pilea plants into my terrarium. Hopefully, one or two more of the pieces will root as well.
Propagating Red Stem Pilea from Cuttings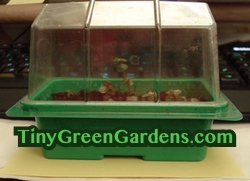 The pieces that went in the kiddie greenhouse took off like gangbusters. The greenhouse is sitting on a yellow index card to give you an idea of how small it is. (The photos shows my second round of propagating pieces of red stem pilea.)
I placed four pieces in the seed starting medium. I then really wet the soil with a mister (learned that trick from a YouTube video, works so much better than pouring water on it) and placed 4 pieces in the medium.
The video tute was for a different, much larger-leafed species of pilea and the lady really wet the soil. I thought she had overdone it until I saw her little plants – her success rate appeared to be 90+%. She did use a heat mat which she said sped up the rooting process.
After about a week, 3 of them definitely rooted and they all have new leaves too. One was a longish piece that had several joints with air roots. I planted the entire thing, leaving the leaves along the stem sticking out of the growing medium. Another was a smaller piece with 2 joints and the third was just a single piece. The one that quit on me was also just a single piece.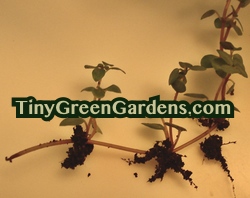 The greenhouse is in a bright room and got a little afternoon sun in the hottest window in the house. It's a bit shaded by another plant but it might have warmed the soil as well as provided some sun.

Condensation formed on the plastic dome and I had thought that I had made it too wet. But, when I realized the largest piece was getting too tall for my little greenhouse, I opened the container and was surprised to find the pieces firmly rooted.

The babies went into my large terrarium with the harvested moss and a pilea spruceana. I haven't closed it yet since I planted it about 15 days ago. The pilea spruceana seemed to become a changed plant when I rudely removed it from the pot it came in. I ripped off around 25-30% of the bottom roots and planted it in Josh's Frogs Terrarium Mix. I had intended on putting the lid on the container but since that pilea appears to be thriving right now, I plan on leaving it off for now.

...