Buying Gnomes for Fairy Gardens
Gnomes can be found residing in fairy gardens almost as often as fairies do. They seem to combine the fairy-tale aspect that fairies do with a bit more gardening goodness. The trouble with finding miniature, fairy-garden-sized gnomes is that not everyone discusses size when they sell their gnomes. Additionally, a number of the miniature gnomes are kinda ugly – at least to me. There are some very cute ones out there, you just won't find all of them in the gardening department.
Buying Gnomes – In the Kitchen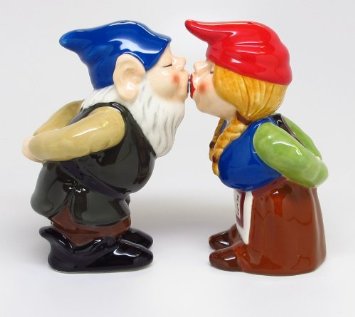 My favorite gnome didn't come from a store that sells fairy garden items. It doesn't even sell plants. I bought my miniature gnome at Cracker Barrel several years ago. It was designed to be a salt or pepper shaker. They sold them individually and it was only a dollar or two. I always check them out for cute little items for my fairy gardens. They often have small china figurines or children's playsets with horses and other animals.
The gnome salt shaker I have is no longer available but there are some cute ones on Amazon right now. Unfortunately, they are a little on the larger side at 4 and 5 inches. My favorite is the kissing gnome couple. They are 4.25 inches tall and have magnetic personalities. Well, maybe not magnetic personalities but they do have little magnets in their lips so they remain in a tight lip lock together.
If you do find a miniature gnome salt or pepper shaker for your fairy garden, don't forget to remove the stopper so moisture won't get trapped inside. Also be sure to maintain the scale of your fairy garden; not all salt and pepper shakers are small. One cute gnome shaker was 7 inches tall.
Buying Paint Your Own Gnomes

Another fun place to look when buying gnomes for fairy gardens is the ceramics and pottery section of an arts and crafts store.
Again, you have to be careful of the size to ensure the gnome is the right scale for your fairy garden. But, this little guy on Amazon is only eight inches tall and super cute. Using the included paint or your own acrylic paint, you can turn this paint your own gnome any color that might be found in your fairy garden or your imagination. Some families painted their gnomes wearing their sport's teams favorite colors. The manufacturer painted stripes on their gnome's shirt. The possibilities are endless. And, this company also offers a super cute paint your own fairy too!
If you do buy a paint your own gnome or fairy, you might want to use a sealer to protect him, or her.
Buying Miniature Gnomes in the Fabric Store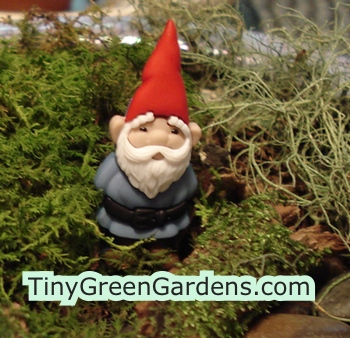 After you are done checking out the ceramics section, head on over to the sewing section as another great place to buy gnomes for fairy gardens. (This blue gnome button is hanging out in my fern moss garden that is about a month old.)
I found these little guys in my local fabric store but a number of vendors are also selling them on Amazon. They are absolutely the cutest little gnome buttons. You get three. Each one is only 1.5 inches tall.
Since they are being sold as buttons, I would hope that they would be fully waterproof. I haven't put mine to the test yet. If they don't hold up, I'll let you know. But, in the meantime, check out this gnome cuteness.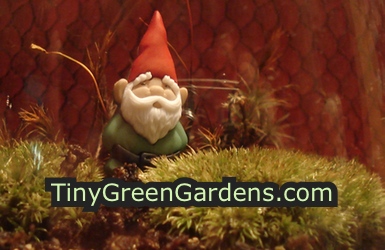 As you can see, buying gnomes from places other than garden centers opens up a world of possibilities. Isn't this green gnome cute? He's visiting my moss garden in a glass while the sheep is on vacation.
The gnome buttons come in a package of three – a green gnome, a blue gnome and a yellow gnome and are manufactured by Dress It Up.
Sharing Ideas
So, I've shown you mine. Care to share your tips on great places to buy gnomes for fairy gardens and gnome gardens?

Where did you score your favorite miniature gnome? Or are you still hunting for one. Hopefully, this post will give you some great ideas to find the one miniature gnome that fits your miniature garden's personality the best.

...