Moss Garden in a Glass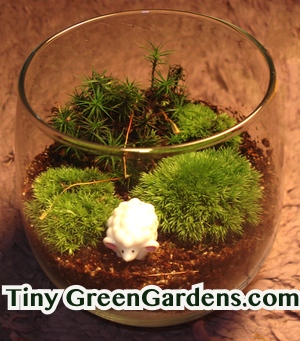 Another little thrift store find, a pretty curved glass (it reminds me of those candle air fresheners) and a little toy lammie from the 100 pennies store turned into a moss garden in a glass. It is part of the Great 2015 Moss Gardens Experiment.

This one has a trio of small pieces of cushion moss and a little patch of star moss. All of these pieces got a heavy washing/dunking before being replanted. The long brown string-like things were attached to the star moss and are reproductive spores. Of all of the moss garden experiments I have going right now, this star moss looks the most unhappy; though, one of the spore stalks is now growing straight up and is taller than the glass. I haven't had much luck with transplanting moss when it was developing spores like this; hopefully, these are different enough from the more non-vascular species that it will be OK. My working theories are that the moss after sporing dies off or is not able to withstand being moved during that time.

The bottom of the glass has some sand mixed with terrarium substrate topped off with some  terrarium mix – it contains Coir, Peat, Vermiculite and Charcoal. Both of them are available on Amazon.

Mom's been tending this one. I believe she is giving it a misting each morning and on the third day after I made it, she slipped a cover on it. Don't know for sure if it is one of those candle air freshener glasses, but, the cover for canned pet food fits it perfectly.

I've looked around and it appears the little lamb and the other critters he came with is a discontinued item. They have little suction cups on the bottom. The idea is you stick them onto a table and wait for them to pop off. None of mine work, so perhaps it's no wonder they are no longer available. I got 6 of them for a dollar but only the lamb and the yellow chick are cute. I thought the suction cup part would be great to help hold the lamb in place -it is – it's buried in the dirt.

...