Dinosaur Garden
The Great 2015 Moss Gardens Experiment seemed like the perfect time to create a dinosaur garden.
A trip to our regional everything's a dollar store led to a package of little plastic dinosaurs and the most charming castle set with a pair of knights on horseback. One of the dinosaurs reminded me a bit of a dragon, so my dinosaur garden did turn into a bit of a knight vs dragon sort of thing.
But, first things first, let's talk a bit about the moss garden itself.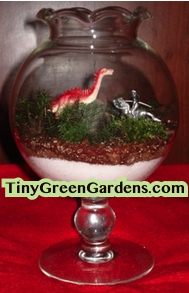 The container I chose is a marvelous thrift store find. It is a decorative piece on a stand that I think of as being semi-enclosed. It was my hope with this glass piece, that it would help keep the humidity contained whilst still letting some air flow over the mosses.
I planted little pieces of cushion moss, star moss and fern moss along with some other stuff that I haven't identified yet. I have a layer of sand mixed with terrarium substrate from Josh's Frogs. On top of the sand mixture is a layer of  terrarium mix, also from Josh's Frogs. (Both are available on Amazon.)
Then the fun started, creating my dragon dinosaur garden. The fact that my dragon dinosaur is bright pink also makes me think he might be a friendly fellow and the knight has nothing to worry about from the pink guy.
In a happy bit of coincidence, I'm finding the addition of the figurines to my dinosaur garden may help keep humidity levels up. It appears based up their shapes that the misted water lays here and their on the figurines. Hours after I mist, I can still see little droplets of water on the dinosaur and the knight.
Make Your Own Dinosaur Garden
My dinosaur garden was obviously space-limited. But, I thought I would include some suggestions…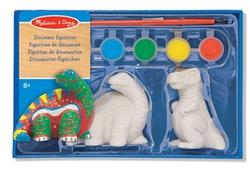 How fun for your favorite dinosaur lover! The Melissa & Doug Dinosaur Figurines kit comes with two ready-to-paint resin figurines and 6 different colors of acrylic paint.
None of the reviewers or the manufacturer discussed if the painted dinos were waterproof but who says you have to populate a dinosaur garden with living plants?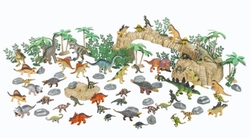 100 pieces of dinosaur goodness, plenty to make several dinosaur gardens – 20 trees, 6 big trees, 4 mountain pieces, 22 rocks and 48 dinosaurs. Unlike my dollar store cheapos, the World Animals Dinosaur Playset pieces are fully painted – some of the dinos even have polka dots.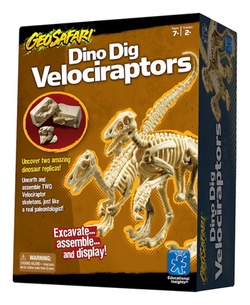 Love Michael Crighten's Jurrassic Park and Jurassic World?
Then this fun children's toy might be the perfect addition to your dinosaur garden. But, first you get to play amateur archaeologist and unearth the two Deinonychus, or as Crighten calls then Velociraptor, skeletons from a block of clay.
Skeletons are put together with a special non-hardening wax that allows for the dinos to be put into different positions.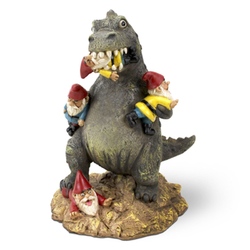 And now, something for the adults.

If you are suffering from cuteness overload when it comes to tiny green gardens, then perhaps this garden statue is for you . . . it makes me smile every time I see it. T-Rex measures 9 inches tall by 5 inches wide. But, the path of destruction he is creating is so much larger. This dinosaur garden dweller proves just who the king of the garden is as he clears the garden of 4 pesky gnomes. The Great Garden Gnome Massacre will definitely leave your friends and family asking, "Did you see what she has in her garden?!"

...