Terrariums
Terrariums just might be the original tiny green gardens. Whether under glass or just living inside it, terrariums bring a bit of the outside in. They can house a single plant or can recreate an entire ecosystem. On Tiny Green Gardens, we share our adventures in creating terrariums, maintaining them and other helpful information to create your own.
Unlike many of the other sites talking about terrariums, we'll keep you updated as to how our's is faring. After all, anyone can make a beautiful display of plants if they don't care it they live much longer than it takes to photograph them.
Featured Terrarium Posts
All Terrarium Posts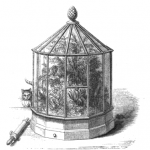 Filed under: Terrariums
We answer the question, 'What is a terrarium' and explain how they were invented almost 200 years ago by an amateur botanist.